The American Gerrard- Transfer News and Rumors
"The name's Gerrard, Jordan Gerrard," also known as "The American Gerrard!" You know about the Welsh Pirlo, you've seen the Egyptian Messi, but you never knew about the American Gerrard! When the American Scouser needed a transfer expert, I was there to smash it in from long range with an absolute belter. What a hit son, what a hit!
Here's to You, Mr. Henderson
(Ed: Taking a moment aside from transfer rumors to give some well-deserved recognition)
This week Liverpool Football Club Captain Jordan Henderson was announced as the Football Writer's Association Player of theYear. He is finally getting the recognition he deserves. Will this latest accomplishment finally silence his critics?
I personally am extremely happy for Hendo because I have always been a fan from day one (really). Over the years many fans – including my father – have said Henderson was crap or did not deserve the captaincy. I was never one of them… (us Jordans have to stick together). He is no Steven Gerrard, but Stevie G left very big boots to fill: this season Henderson put on an extra pair of socks and made those Stevie G-boots fit. Congratulations to the Skipper, Mr. Jordan Henderson!
It has been a really amazing season, setting aside the disruptions caused by COVID-19. Liverpool won the league and set some records while doing it. Alas all good things must come to an end and we must give our beloved club a break to rest and prepare for the season ahead.
The rescheduled summer transfer window is right around the corner and we have already been bombarded by a sudden storm of transfer rumors. Lovren looks set to Lovren it up somewhere else. Lallana's new club has finally been revealed. And of course, I talk about some more rumors that just are not happening. So put on your raincoat and jump under your Anfield umbrella, 'cause LFC transfer rumors are raining down…
The Watford Beef
A popular rumor making the rounds this week is linking Liverpool with Watford's pacey winger Ismaila Sarr. You'll remember him as the guy who screwed up our unbeaten run in the league. It seemed his pace was just too much for Andy Robertson to handle and he scored two unanswered goals on the day.
Sarr currently plays for Watford and Senegal, and is good friends with Sadio Mane. He has scored 10 goals this season for a struggling Watford side and with the Hornets getting relegated, he represents a potential bargain buy.
Klopp is known to pickup decent players from relegated teams. You could even point out Klopp's history of signing players who have scored against Liverpool. Some fans are already getting excited about this one but the inside story makes this transfer look difficult because Watford's owners and Liverpool's owners kinda have a "beef."
In 2016 Watford picked up Jerome Sinclair on a free transfer. Sinclair had turned down a contract extension at Liverpool and the club felt that Watford had tapped him up. Liverpool never filed a formal complaint but since Sinclair was under 24 years old, Watford were eventually forced to pay Liverpool $5.1 million in development fees. This started the bad blood between the clubs.
Later, Liverpool tried to sign Piotr Zielinski from Udinese in Serie A. Udinese is owned by the Pozzo Family, who also happen to own Watford. Liverpool supposedly tapped up Zielinski – the player was pictured in a Liverpool shirt before negotiations had even begun. The Pozzos were still angry at Liverpool over the Jerome Sinclair situation and Zielinski wearing a Liverpool kit only made them more mad. They refused to do business with Liverpool, going as far as selling the player to Napoli for less then what Liverpool were offering.
Watford paid $33 million for Sarr just last summer. Between the price they paid, and their dislike for Liverpool, any bid for Sarr would likely need to be very high in order to be considered- he may not be as cheap as people think. I like Sarr, but for $40 million and up I'd rather Liverpool sign someone else.
Lovren and Leave 'em
After six years at Anfield, Dejan Lovren is leaving England for another league champ. Zenit St. Petersberg in Russia are believed to be willing to pay $14 million for 31-year-old Dejan Lovren. Zenit had previously made their interest in Lovren known back in May, but had been waiting to see if the price tag would drop with his contract set to expire next season. Liverpool were ready to trigger a clause in Lovren's contract extending it another year in order to prevent any cheap bids.
Italian side Roma were linked with loan move last season, but Klopp intervened and personally requested that Lovren stay. Lovren has previously expressed disappointment in playing so few games this season. Lovren has been scouted as a potential long term replacement for Zenit club captain Branislav Ivanovic and could evolve into a key player for the Russian Champions assuming he stays fit.
I am hearing this is very likely to be confirmed in the next few days. The decision is rumored to be left with Lovren and the club have already agreed to allow him to leave for a fair price. Will Liverpool sign a replacement? Even more importantly, will Mo Salah be ok?
Ed: As of the writing of this article, this deal had not yet been confirmed. This morning it was announced Lovren will move to Zenit St. Petersberg for $13.2 million.
So Long Lallana
A few days ago Adam Lallana posted an emotional farewell message to his teammates, staff and Liverpool fans. Lallana's contract with Liverpool expires at the end of the season and he is free to sign with a new club. James Pearce has announced Lallana will be returning to the South Coast for regular first team action playing for Brighton Hove Albion. Lallana has supposedly agreed a three year contract.
Brighton have offered Lallana a deal based around him being a leader at the club and using his talents to further their tactical development.
Brighton manager Graham Potter recently claimed the club would do all the could to hang on to Leeds loanee Ben White. White is one of the most sought after young center backs in England. Brighton being able to keep hold of Ben White and signing an experienced player like Lallana may show promising ambitions for the side.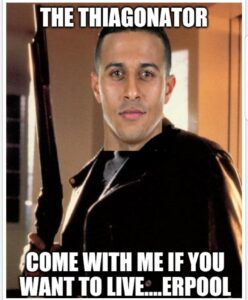 Thiagonator 2: Judgement Day
Come with me if you want to live…erpool.
I keep seeing more stories popping up about Thiago Alcantara. Bild in Germany supposedly claim Bayern have accepted a low ball bid from Liverpool because they do not want to risk losing the player for free next season. Bayern are a shrewd side when it comes to transfer business: they just signed Leroy Sane for only $49.5 million. They will not get desperate to sell before the window is even open.
The story has evolved to Liverpool and Bayern are disagreeing on the price for Thiago: Bayern allegedly want $45 million paid up front, but Liverpool are allegedly concerned about finances and want to pay only $25 million with potential performance related add-ons in a payment plan.
According to the latest reports in Germany Thiago has even submitted a transfer request to force through a move to Liverpool. Klopp continued to say nothing besides his usual cryptic denial during his press conference. He reminded everyone that Thiago was currently still a Bayern player and there was nothing to say.
Fabrizio Romano and the Liverpool Echo both claim that no official bid has been made, and Liverpool look to be more interested in convincing Georgino Wijnaldum to extend his contract then signing Thiago.
Premier League Prize Reduced
Jurgen Klopp and many connected to the club have repeatedly claimed Liverpool would have a tight budget this summer due to financial impact from the COVID-19 pandemic. The hopes of some fans desperate to see new faces at Anfield, rested on the belief that the club would receive a large cash prize from winning the league.
According to the Mirror, Liverpool will still receive a decent pay out, but it will be reduced by 14%. The impact from COVID-19 and the worldwide lockdown led to reduced income from broadcasting and match days. Liverpool will now pocket $69 million as prize or merit money for finishing in first place. Overall Liverpool will receive around $224 million for completion of the season.
Last year Liverpool made around $47 million in prize money for being runners up. Will an extra $22 million be enough to convince Liverpool to spend on reinforcements this summer? Only time will tell.
I'm Jordan Gerrard, and as always I thank you for reading.