Something The Kop Wants You To Know
Tales of heartbreak that the Kop wants you to know
There's something that you should know. When I was in fourth grade, I was in love. At the time it wasn't a sport, it was a girl. Debbie O'Neil had unwittingly stolen my heart for a good portion of fourth and fifth grade. I was solely focused on her. It got so bad that I was willing to deface my bike for this woman. Remember, this is fifth grade. Back to defacing, I got a bumper sticker from WHYN in Springfield, MA. I slapped that sticky advertisement on my wheels.
READ MORE: Compound Interest by Jeff Cutler
SUBSCRIBE & FOLLOW: YouTube / Twitter / Instagram / TikTok
Specifically, I stuck it into the spokes and then peeled the backing. Clearly, I was a moron then and I am still not much smarter. If you know the mechanics of a bicycle, you realize that the wheels spin in a circle. Affixing a sticker with a message on it ONTO the spokes of a wheel will NOT RESULT in easy-to-read messaging.
Luckily, I'm lazy. While resting, my bike wheel was in a perfectly level position making the bumper sticker visible and clear. So clear, in fact, that some radio station flunkie shouted to me from his car, "You're the next winner of cash from WHYN!"
CASH!? Yes, please!!
I got a crisp $5 bill from the shouting man. Next thing you know, I'm pedaling as fast as my little legs would take me to the local pharmacy/gift shop/soda fountain. It was there I purchased "Teddy One" and took him to Debbie O'Neil.
No dice. Rebuffed. Refused. Rejected.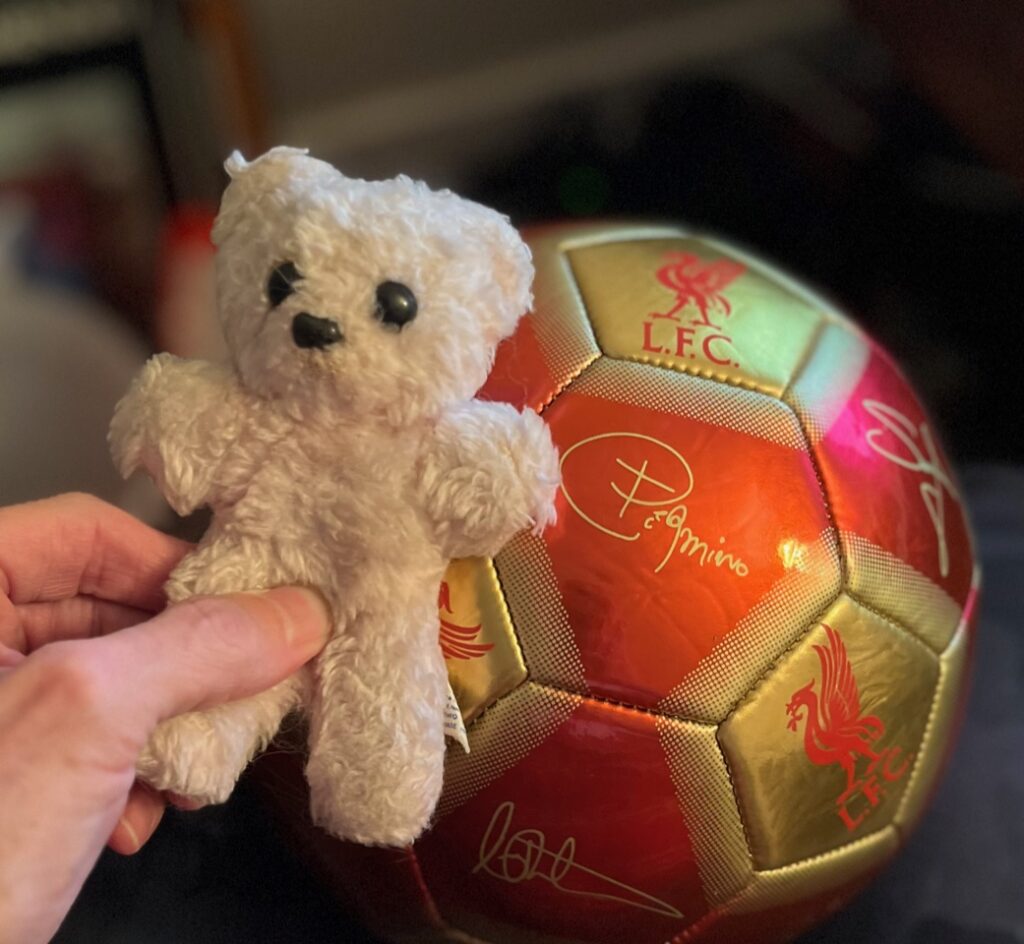 So I Know Heartbreak
Teddy One still lives with me, a 57-year-old man, with a cat and a wife (who knows very little of Debbie O'Neil, so hush!).
I brought up this old tale of heartbreak to set this one up. ROBERTO FIRMINO BARBOSA de OLIVEIRA is leaving Liverpool at the end of the season. It's Debbie O'Neil all over again!
What's going on? Can this really be happening? After a season in which we've had some stumbles (understatement), we're now smacked in the face with this? We all know Bobby Firmino is a critical part of the side. Impeccable smile, incredible hair, irreplaceable skill. Why Bobby, why?
In his almost 31 years, the Brazilian has played futbol the way it should be played. I harp an awful lot about crybabies and divers. Bobby was and is neither. He just plays the game.
Best In The World
Purity is probably the best word I can use to describe his game. There are some poetic and ballet-style moves in each attack. Yet there's always a drive to the goal.
Let's talk about heroes. Firmino came to Liverpool in 2015 and has left an indelible mark on the minds and hearts of the fans. I only began watching in 2017 or so and immediately could tell which players were extraordinary. It wasn't because I have some gift for talent evaluation, it was because players like Bobby are different.
He fools you with a smile. Look into his eyes and sometimes it is a driven grimace – and you know he's going for goal. Other times, the glint of light in his eyes broadcasts that he's playing a game, having fun, and doing it for the joy of the game and the fans.
Look around the club and tell me which three or four players you'd like to actually have a meal with. Conversational and language barriers aside, can you honestly tell me Bobby isn't in your top three? He leads MY list. I want to know how he finds joy on the pitch ALL THE TIME. It makes me happy just seeing him with the ball. I giggle when he manipulates the ball in ways they can't even replicate in FIFA video games.
The End Is Sadly Coming
So why would a club allow someone to leave? I don't think it is up to the team. If you have a robotic and maniacal player like Erling Haaland, you just take the production and endure the evil smiles and unsettling attitude. With Roberto Firmino, it's different.
Unlike Haaland or any of the other animatronic players across the EPL, Bobby has a soul. He harnesses and then distributes joy when he's on the ball. Cruising toward the net, he's captured everyone's attention and it's ALWAYS worth your time.
Did you think there wouldn't be any career for Bobby after Liverpool? Did you believe as I did that he was going to retire a Red? I got fooled because he always behaved as if he was a friend of ours. AND HE WAS! Our Brazilian friend, looking up in the stands to see it we were watching. Then he'd do something magical. Magical and amazing, all the time. Our Bobby.
According to that rag Wikipedia, "Roberto Firmino Barbosa de Oliveira is a Brazilian professional footballer who plays as a forward or attacking midfielder for Premier League club Liverpool and the Brazil national team. After starting his career with Figueirense in 2009, he spent four-and-a-half seasons at 1899 Hoffenheim."
Always Our Bobby
You and I know more. We know the Bobby Firmino who smiled as we smiled all while scoring mounds of goals (108 after the United one).
We sighed as his dental double Jurgen Klopp hugged coming on or off the pitch.
There is only a bit over two handfuls of matches left for him at LFC. Now is the time to watch, love, and smile. Lean forward to experience his magic on the ball. Show all your teeth for Bobby, just like he's done for us for eight amazing years. I know I'll always be a fan. I hope you will too!
We talk about the future of Mo as well as Milner while discuss what we want to see in our manager in terms of approach and temperament