MY LIVERPOOL STORY : DANIEL KEENEN
Daniel Keenen – My Liverpool Story
I am going to organize this story around a word. That word is tension. The definition of the word I am using is "mental or emotional strain." I think this word sums up a lot of what it means to be a Liverpool fan both in a positive and in a negative sense. The tension of watching a cup final, being a positive example, or the tension caused by the club attempting to join a profit-hungry "super league" being a negative example.
2005 is about the year that I realized Liverpool existed. I was a young soccer player who had just started playing for a competitive team in the suburbs of north Atlanta. All of my young teammates somehow knew a lot about English soccer and followed it, but I knew nothing. I did not have a team, and I was left out of a lot of conversations for that reason. Tension. So, in an effort to fit in and alleviate my tension, I resolved that I would find a team to love. I was (and still am) an avid reader and was very into the Redwall series by the Scouser, Brian Jacques. Because he was from Liverpool, I googled "soccer teams in Liverpool." The first result, the one I would click on and the one which would become my new favorite team was, thankfully, the ESPN FC Liverpool page. I clicked on the link, went to the roster, copied into a piece of notebook paper, and put it on my closet door. I was now a Liverpool fan (or so I told myself).
Even then, I recognized that I was not really into the team immediately. I had no idea when we played, no clue about the history, and only copied down our roster once a year, at the start of the season to replace the one already on my closet door. I am not even sure I could have told you with any kind of regularity what sort of league position the team was in. I vaguely remember watching the PK shootout for a major final in the first few years of my being a fan (I recall Reina being in goal, which would make it the 2006 FA Cup final).
I remember watching recorded games throughout high school and defined myself as a Liverpool fan to my friends. I remember once watching a game, furiously bouncing my leg to the point where my girlfriend at the time (who I had somehow convinced to watch the game with me) put her hand on my leg and told me to relax. Tension. Clearly, she did not understand what it was like to be a Liverpool fan at the time. I think that was a derby match, and we were up against Everton, but, I learned to never trust a Liverpool lead early on in my career as a fan… I was very thankful to Jurgen Klopp for dispelling us of that trait (at least temporarily).
I really dove into things in college. I vividly remember living out the 2013-14 season in the dorms where I met a few friends with who I'd watch matches throughout college. I remember celebrating our win against Man City like we had just won the league… And I remember the devastating feeling I had when I watched Gerard slip against Chelsea… I've run around my house more times than I can count making up fan songs, screaming when we score big goals, and swearing when things don't go our way. I am a pretty relaxed person normally, but the Reds always get my blood pressure up. I know I am not the only one this happens to. Again, tension.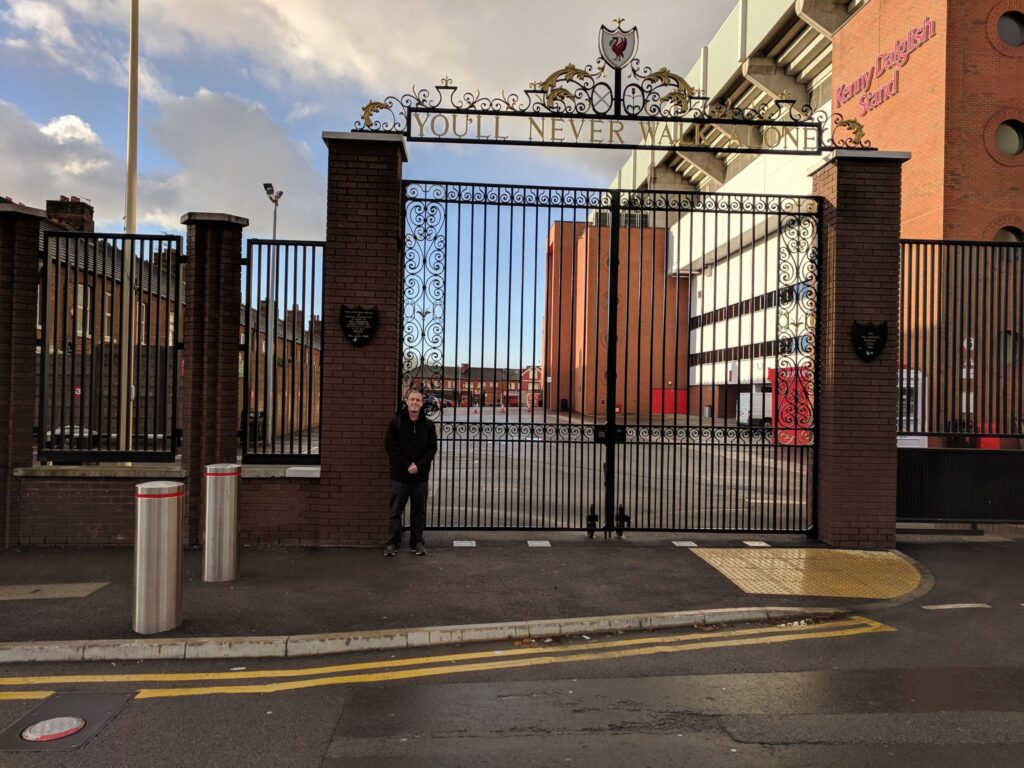 I became a fan for a superficial reason but stuck around for a deeper one. The club's motto has always resonated with me, and when I need to handwrite letters to people, I always sign it with "You'll Never Walk Alone." The club has offered me a connection to so many people throughout my life. I had the privilege of meeting Brian Jacques when I was little. He had a book signing in Atlanta and I remember sprinting up the stairs to tell my mom he was coming to town the day I found out. I had her put that date in her calendar that day to make sure we wouldn't miss it. Needless to say, we were the first ones at the bookstore to get my books signed. Thankfully Mr. Jacques was a Reds fan because I wore a Liverpool jersey to the signing. The late Mr. Jacques put his arm around me (after his minders told us not to touch him) when my mom went to take my photo with him. No one else got an arm around their shoulder.
Friends in college were made on the back of the many Liverpool Jerseys I wore around campus. I had the privilege of going to Bulgaria one summer and I met someone there who I bonded with because he was also a Reds fan. Born and raised half a world away, but we could both connect over our mutual love of Liverpool. I remember holding hands with a stranger and yelling into each other's faces when Mo Salah tapped a goal home against Chelsea in 2017 at Anfield. I was in the Anfield Road stand that night. When I was watching the end of season video from the club showing all of Mo's goals that season, I remember watching that Chelsea one and thinking, "I was a part of that cheer that night…" That is my own way of being a part of Anfield's history.
But despite all of these deep, meaningful experiences, I still feel a lot of tension. That tension stems from my relationship as a fan with the hierarchy of the club. Given that the club is an organization out to make money, as has been clearly illustrated by things like ticket price hikes and this European Super League debacle, what does that make me, someone who loyally follows the club? Am I just a customer to the club, or do I mean more to them? Does the fact that the club is profit-motivated make my experiences less authentic? The answer to that last question is no. I think, on some level, all of us supporters feel this tension and address it in our own way. I handle it by thinking about all the meaningful experiences I have had with fellow fans as a result of this team. The moments when I get an arm around my shoulder, cheer with a stranger or run around my house yelling by myself after we won the league. Even though the club's hierarchy is all about money, I am happy to spend mine knowing that I really do have a meaningful community around me. Ideally, we would go back to the Liverpool of old, which had a hierarchy far less profit-focused and cared deeply about the fans. While I think FSG cares about us (as customers), they only listen when we raise our voices together. So, if we are not happy with corporate greed, we should collectively say so. Regardless, I am a Reds fan till I die, though I am glad FSG did not test me by making us play in the Super League.
The trio is talking about Liverpool as the audience flirts… yep.. that is not a typo! We recap the season and talk about some of the transfer news trickling in