My Liverpool Story: Hesham Hassanein
By Hesham Hassanein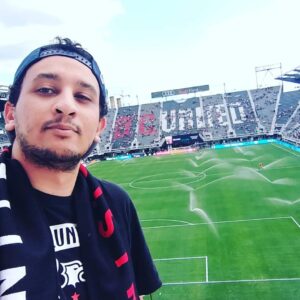 In order to understand how I became a Liverpool supporter, we need to go back to August 2007 and look back at my time in Egypt where I first became a fan of football.
As an American kid, who was obsessed with basketball, I never imagined myself being in this situation. Upon finishing middle school in Maryland, my parents allowed me to homeschool during high school and instead use this time to travel to Egypt, the country from where my family had originally immigrated.
When my feet first touched African soil in 2007, I had no real interest in football (soccer). My mother was a big fan of football when I was growing up, but the sport itself wasn't on American television channels enough for me to develop an interest. I was crazy about a variety of other sports: I followed the NBA season religiously, and had devoted myself to teams in baseball, hockey and American football.   So here I was: an American sports fan, egotistical about my sports know-how and ready to drop knowledge about random NBA facts to impress my foreign family and friends. As it turns out, that meant very little – I was in a country that did not care a bit about the NBA.   Nor did they care about hockey, or baseball… and they definitely had no interest in
American football. Instead, they lived and breathed a sport that was alien to me.
To compound matters, I had arrived in the midst of a historic moment for football in the country. Between 2006-2010, Egypt won the African cup three consecutive times, a feat no African country had achieved previously. The fervor for the sport was at an all-time high, fueled by Egypt's golden generation.
This passion for the game was beyond anything I had ever experienced and after seeing a couple of amazing games, I excitedly jumped right in. The local football team in my city was called "Ittihad Alexandria" (Alexandria Union) and since tickets cost a pound (the equivalent of 17 US cents at that time), I went to the games a lot. I mean seriously, a lot! I am not going to lie: the team was absolute shit – they were constantly fighting off relegation. But while my games experiences in the US were fueled by winning and filled with cookie-cutter chants like "Let's go Team" and "DEEE-FENCE," these Egyptian football matches offered a completely new experience unlike anything else.  From the first kick off to the final whistle, the crowd sang non-stop songs and shouted abuse at opposing players, their own players, and even the refs. There were countless tifos, a dangerous amount of flares, and I don't think I ever got to sit down at a single match. Two hours on my feet, cheering, screaming, yelling, insulting, and hugging random people woke something inside me:  this was passion. A passion I had never witnessed before.
What we had in America was great and fun, but this… this was something else altogether. This was a whole new world of sport, and I dove in head first. As my fandom grew day by day, I joined a football club and started playing the sport in a semi-serious manner. At "Al-Hilal El Ahmar" our wins might have been few, but the players at the club introduced me to something else that piqued my interest: European football.
Now African football has a passion that no other continent can match. That is a fact. But Europe? It just had the best of the best: the best players, the best teams, the best managers, the best stadiums, and of course, the best football leagues on the planet. Serie A, with the mighty Inter and AC Milan; La Liga, with the two most powerful football clubs in football; and Bundesliga, which was home to one of my now favorite Egyptian players; Mohamed Zidan.
But my favorite league was instantly the Premier League. Even in Africa, the Premier League is king among all leagues. It is the top league, most watched, and most talked about, so right away I turned my attention to this league.
I will admit that Liverpool was not my first choice. I am ashamed to say that my head was first turned by Chelsea, and I had made that decision based on their jersey colors alone (don't worry, I have come far from that place now).  Luckily, my "support" for Chelsea didn't last long.
Unfortunately my second choice team was also not Liverpool. Not having a home team and not being based in Europe, I was looking for a team with which I could have something in common. I thought I had that connection with Manchester City since it had Muslim owners, but this interest also did not last very long. How could it? The ownership of a team is not the same as players, and I could not grow a connection to any actual players on Man City's squad.
Lo and behold, on 26 August 2012, when Man City visited Anfield to play Liverpool, my life changed completely.  I finally had found the connection I was looking for! Liverpool's fans were the most passionate fans I had ever seen in Europe. I was immediately reminded of the passion in African football, and all of a sudden I felt at home. The tradition of singing "You'll Never Walk Alone" sent chills down my spine, and the club's connection with its fans and its city, partly stemming from the tragedy of Hillsborough, reminded me of the strong ties that football clubs have to their communities in Africa. Even the rivalry with Everton made me happy – every year when the victims of Hillsborough were honored, this rivalry was thrown in the trash and the city came together in a beautiful way to unite all sides.
I wasn't living alone in this community for long either.  My youngest brother would watch the Liverpool games with me, and not long after, he too was an honorary Scouser. Together we would take turns waking the other up for games in the morning, or explaining to random Americans what we meant by "promotion to the Champions League," and soon everyone was referring to us as the "Liverpool brothers."  Liverpool brought us moments of high, like the Champions League final in 2019, and major lows, like the Champions League final in 2018. And we were not the only Liverpool fans in the family anymore – Mohamed Salah, Egypt's greatest ever player signed for Liverpool four years ago, and next thing we knew Liverpool were not just a club for me and my brother anymore.  Salah's arrival made it my parents' favorite club too. My uncles and aunts in Egypt would make time to watch the games, my cousins would post countless pictures in Liverpool kits, and before I knew it, all of Egypt seemed to have turned into a Liverpool fan.
When I visited Egypt last summer, Liverpool jerseys dominated everywhere. They were sold on every street corner and I was no longer the only one sporting the Liverbird on my chest.  It was an incredible feeling. When I had first started supporting Liverpool, we were struggling to get by and failing to qualify for the Europa League with a young Brendan Rodgers as manager. No one in my family and no one in Egypt was following Liverpool.  But now? Now Liverpool are the top team in the world. My family and I get together to watch the games and all over Egypt, all over America, people know who we are. We're the champions of the world!