GW 4 seems a lifetime ago…
---
Theres a reason it seems a lifetime ago… that is because 2 weeks these days is a lifetime. But here we are on the eve of the Derby and the Transfer Deadline for FPL is early tomorrow morning before the game. We play First this week so we can sit back and enjoy the other games fight it out.
---
Top Transfer Tips for GW5
With the Derby this weekend, form goes out the window. Which could prove difficult in picking your desired 11 for this Game Week. If you have had the opportunity to listen to the latest American Scouser Podcast we had the pleasure of reigning Champion Ola giving us his own secret tips! So head over to your podcast provider and give that a quick listen if you want some inside knowledge before the Deadline early tomorrow morning. One thing I will tell you is that Son is mentioned. As I said last time round in this article, I planned on transferring out Son due to his injury, and Jose had done me like a kipper and of course Son played and got 2 goals against United.

My top three transfer considerations would be….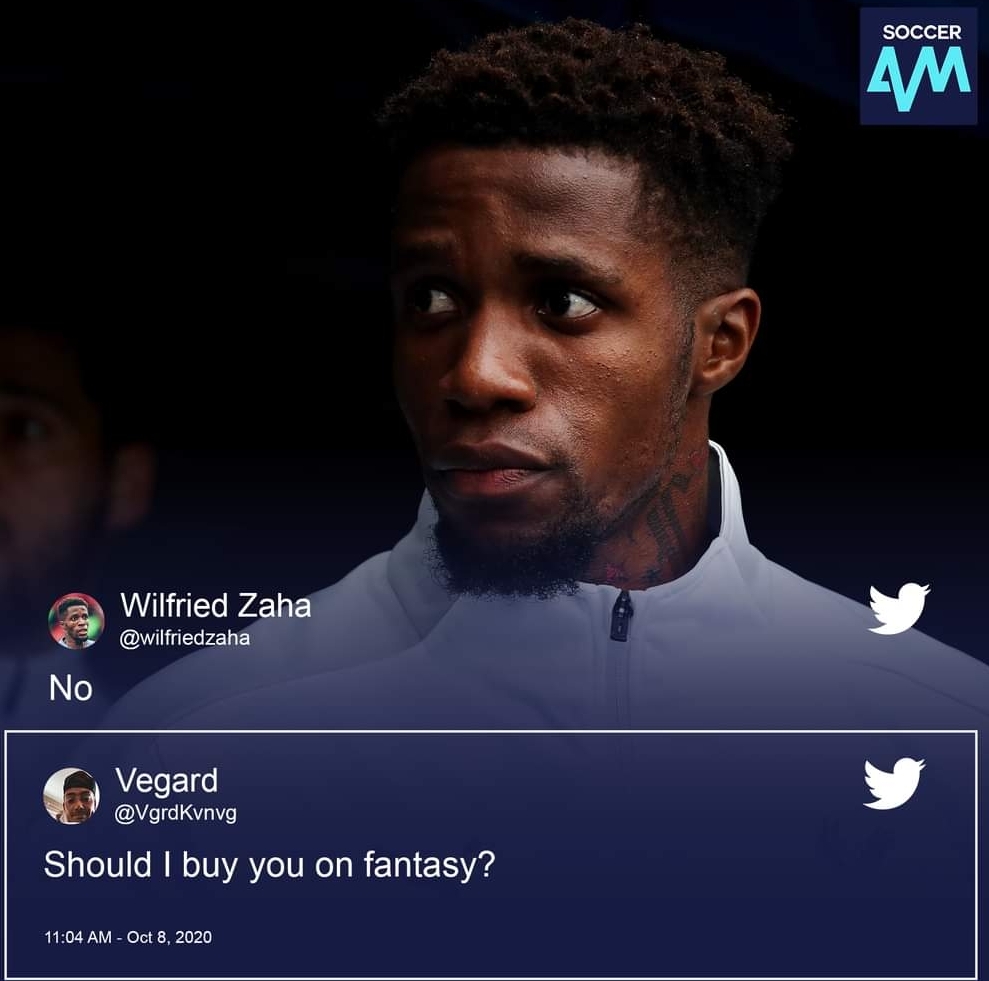 1 Kane. The man is in form so I am hoping my spurs curse can be cured with Harry.

2 Grealish. Without mentioning the game which shall not be mentioned…. Jack has been deployed a little further forward and looks to be relishing it. Jack relishing it… ok I'll stop.

3 Bamford. Some interesting fixtures coming up for Leeds along with top bang for your buck. A good value buy to free up some money.
---
Highest Points In FPL GW4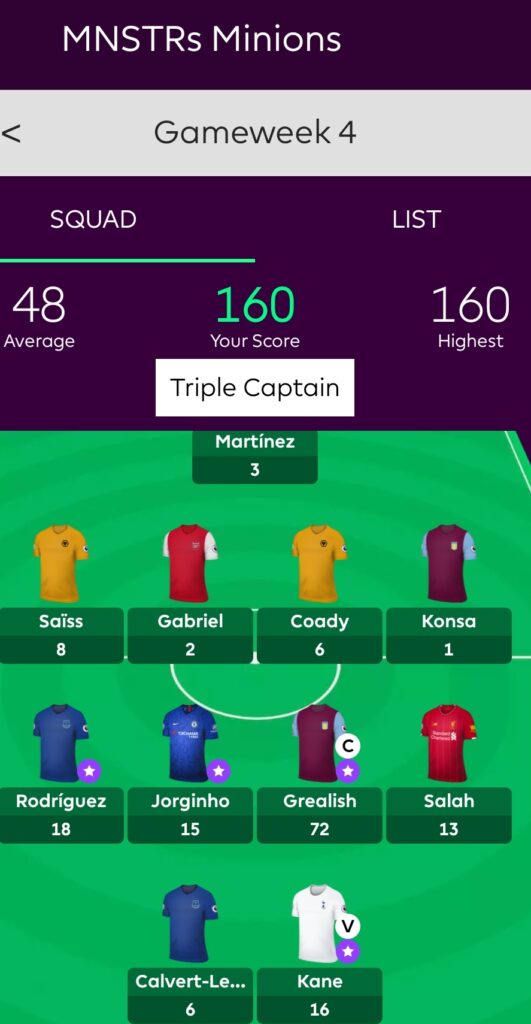 Phenomenal insight to Triple Captain Grealish, however if this trend continues and the goals keep flying in the busy Christmas period could prove critical for your Triple Captain pick.
---
Top 5 points achievements GW4
Boom Squad – 89
GoingFor20 – 87
HimalayanKop – 85
Raila Amollo Odinga – 85
Titusbrambles – 81
Well done to these teams for all breaching the 80 point mark, also for reminding me of Titus Bramble. If your too young to remember, Titus was a Premier League player for 13 consecutive seasons at teams like Ipswich, Newcastle, Wigan and Sunderland. However full credit must go to Boom Squad with 89 points in GW4. Unfortunately for Owner Nicolas Britt, the captain (Abraham) only gained 10 points. So it could have been better if the captain was one of the higher scoring players ie. Grealish or Son. Regardless a massive well done earning the highest point haul for GW4.
---
Top GW points winners so far
GW1 Sane Mane Happy Days – 104
GW2 JFT96 – 121
GW3 YNWA (Rohit) – 88
GW4 Boom Squad – 89
---

The American Scouser Crew Top 5
Teuszy FC – 238
WhoWantsTheTacoSalah – 236
Turkish Stallions – 236
IrishNatPhillips – 228
Red Asterisks FC – 225

With 4 weeks in the bank the table is looking good and the banter can now fully begin. The In House rivalry at American Scouser is already shaping up nicely. The top 5 above have been talking amongst themselves as to who has the early doors bragging rights! Currently its Teuszy FC waving the brag flag. Let's see how this one develops after GW5.
---
The AS Cup Top Ten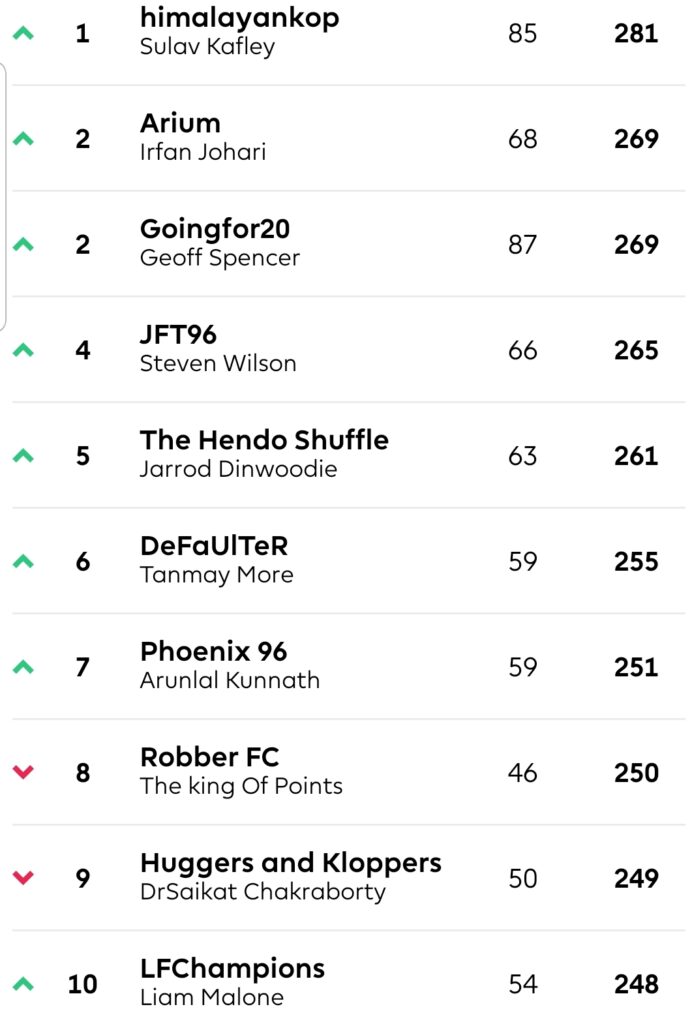 The Assist Kings
Kane – 6
Grealish – 3
McGinn – 3
Bobby Firmino – 2
Bellerin – 2

The Goal Rush continues in the Prem with no sign of it stopping anytime soon. The assist list is also very long and a herd of players join Bobby and Bellerin on 2 assists. I imagine there will be a break away group emerging within the next few weekends.