Liverpool Stutter Out of the Gate
The Reds campaign got off to a good start with a win in the Community Shield against Manchester City. Then a reality check, as Liverpool was held to a draw. In a grappling affair with newly promoted Fulham in West London.
Everything looked good against City, although it was apparent that Guardiola's men were about a week behind Liverpool in their training camp. LFC players were often first to the ball and exhibited crisper passing! It would be another story though with Fulham as the Cottagers moved the ball around more quickly and pressed incessantly.
Some are already bemoaning points lost that could catch up with the club come season's end. While others are concerned about the size of the squad after looking at the injury list. So let's take a look at what went right, and wrong against Marco Silva's side; and what might need to change.
Liverpool conceded a first-half goal!
Going behind is never good, that it happened before the break may be better. Some will argue the play should have been called back with Jordan Henderson sprawling on the turf at the other end but the ref had a good look at the challenge. Fulham broke down their right, and Liverpool had the numbers to defend even with Henderson out of the play. The Reds succumbed to a recurring problem – the inability of Alexander-Arnold to mount any kind of aerial challenge.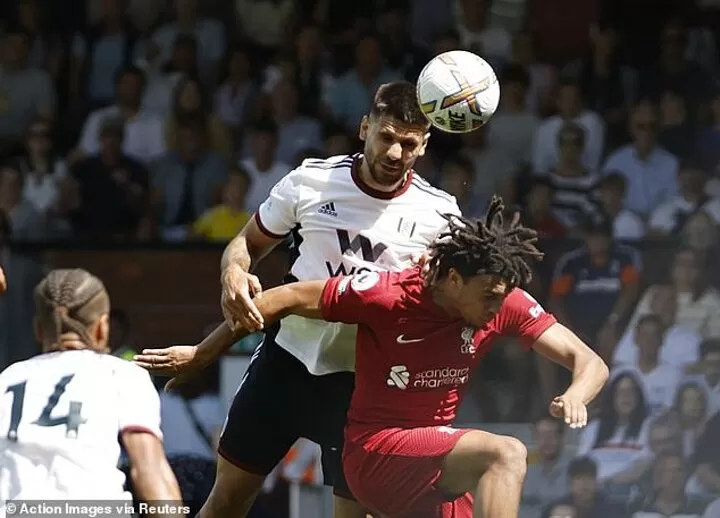 Opponents are onto this! Klopp started switching the sides of his full-backs at corners so that Robertson is always on the near post. But on an open break on Liverpool's left, the favored point of attack is a diagonal pass into the far post. It avoids the defense of Van Dijk and Robertson and puts Alexander-Arnold into the kind of situation that gives him problems.
Liverpool also conceded a penalty in the second half! Matip made an errant pass leaving Van Dijk and a retreating Alexander-Arnold defending Mitrovic. The Fulham forward drew a stray leg from his central defensive opponent and then promptly fell over it. The Dutch defender is unaccustomed to making such mistakes but was caught a little flat on this one.
Indeed several Liverpool players notably Robertson and Fabinho looked like they needed another week. Klopp had scheduled an additional friendly at the weekend for that very purpose against Aston Villa, but he and Steven Gerrard elected to call it off because Liverpool could only field a youth side and Villa wanted senior competition.
Liverpool fought back! (twice)
In the infamous words of Klopp's predecessor at Anfield, "they showed character". More to the point was the Manager's successful tinkering with the line-up. Partly forced by an injury to Thiago early in the second half. Initially, I cringed as Elliott came in on the right and Henderson went left, a place where the Liverpool skipper seems to lose all sense of direction. But then Fabinho was withdrawn and Milner, the more competent left-sided option, came in allowing Henderson to play in the six.
Read More: Here We Go Again – Fulham vs Liverpool Match Recap
Shop Now: Get Exclusive American Scouser Gear Here
Nunez up top had the necessary effect. Unlike Firmino, Liverpool's new signing effectively penetrated the box and forced the central defenders back another 10 yards. This eventually contributed to both Liverpool goals. The only downside is that Diaz became less connected to the play leaving Klopp's choice to replace him near the end with the more recessed Carvalho one that almost put Liverpool in a 4-4-2 at the end.
It's probably too soon to talk about permanent tactical changes. With no midweek games until the end of the month, Klopp will likely keep to his same starting eleven (minus Thiago) a couple more times while everyone reaches full fitness.
What Happens Next?
The clamoring for new signings will probably remain just that. Although the Reds are listing 10 first-team squad injuries the majority are expected to be ready to play before months end meaning just a couple of games as it stands with thin numbers (at least 17 senior players will be fit for next week, 18 if van den Burg hasn't yet departed on his loan). Liverpool had planned to "stick" to use the vernacular of craps, with their midfield personnel; but with Thiago probably out until after September's international break they might be tempted to look at some kind of loan if they find the right player.
Today's lesson – give it time. To those who bemoan lost points already, the best in the Premier League still drop points approximately every 4 games. In the past 3 seasons, Manchester City has dropped points in 32 games out of 114. Football is an imperfect game! It has random elements. When you target winning a high percentage of the time and you'll always do well. But you also understand that there is no need to panic because you're not winning every game.
We talk about the future of Mo as well as Milner while discuss what we want to see in our manager in terms of approach and temperament