One of the most endearing things about the Premier League's overseas supporters is the lengths to which they will go to gather and watch games together. This means showing up at their nominated watering hole at the most awkward times, but possibly none more awkward than at four in the morning on a Saturday.
The West Coast of North America produces some of the most yawn-worthy kick-off times, but none quite as dastardly as the Premier League's Saturday lunchtime kick-off. This, along with its occasional Sunday sister, starts at 430am with patrons and staff showing up from a little after 4 am and onwards.
I've been going to these pre-dawn fixtures for a decade now since about the time those local pubs with supporter's branches decided it really was worth their while to open. From San Diego to Los Angeles I've been to see Liverpool in 8 different locations for a pre-sunrise kick-off, and to gather with the 4 am faithful.
The name for this came about because NBC responds to social media with its #MyPLMorning tag. I decided in addition to that we need a special name for the small group of bleary-eyed supporters huddled around in a half-lit establishment in winter, as the temperature still plummets from the night before. So was birthed the hashtag #The4amFaithful.
One of my first significant outings at this time of the day came in the 2013-14 season. This was at the now sadly defunct Dominion in Garden Grove, a British ex-pats club right off highway 22. The Dominion was special in a quirky way! Modeled out of an industrial unit around the back from the main street serving it, the ventilation was wanting but the atmosphere usually overcame it.
On this occasion, the Reds played Arsenal! Liverpool had lost the first match in November but a 4 horse title race was on that also included Manchester City and Chelsea (The Red Devils were beleaguered by the recent retirement of Alex Ferguson and struggling under David Moyes further down the table).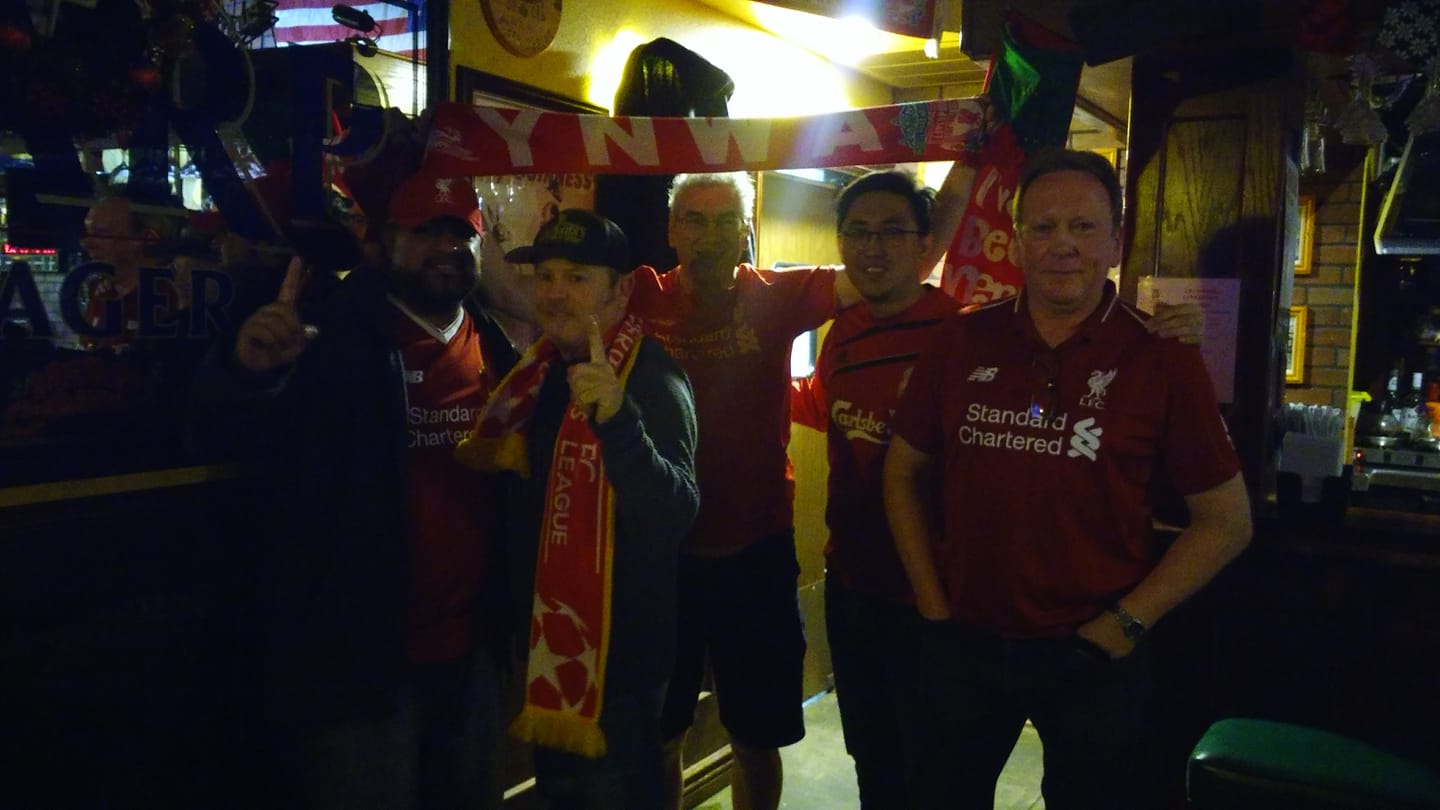 The Orange County supporter's branch, wrestling with their own pub about an opening at such a strange time, decided to make the Dominion their temporary home. Some of them also decided they would host an all-night drinking binge before the game. This resulted in a much-labored version of "Poor Scouser Tommy" being sung. It normally ends with an enthusiastic emphasis on Ian Rush's 4 goals against Everton, but it was too much work for the group to sing:
"Rush scored one, Rush scored two, Rush scored three And Rush scored four"
Instead, after the first two words made them realize that 13 words would be far too much to belt out with any coherence and enthusiasm an Irish organizer named John Sheridan simply declared "ah f___ it, Rush scored 'em all".
The game was unbelievable with the unusual nature of everyone's fatigue and/or intoxication taking improbable events into the Twilight Zone! Skrtel scored twice in 10 minutes and Liverpool were 4 up in 20, which did not include rattling the post and an outside-the-box volley from Suarez that almost broke the bar. This led the commentator to exclaim "Do not adjust your set, Liverpool are making Arsenal look like a pub team." Meanwhile, at our pub, the rest was history, except that nobody can remember much else that happened.
It's an eerie feeling being the first to arrive at an establishment at this hour. Vibrant night scenes have descended into a sleeping city by 4 am. The streets are a ghostly quiet, something rarely achieved in west coast cities at any time since on a weekday the early commutes have already begun (Some Starbucks open at 430am on a weekday). On these weekend mornings, you can hear a pin drop.
As I wait for the owners of Gallagher's in Long Beach to show (and anyone else for that matter) my mind runs. Will they oversleep? Will anybody else show up? Will the weirdo meandering down the other side of the street make trouble for me? Will the police decide that I must be the weirdo of the hour? (Although you never see Law Enforcement at this time – maybe there are no laws to enforce!)
But soon enough the gates are rattling back, the TV's burst into life, and about half the local supporters who claimed they were coming actually make it. The fresh brewing coffee smells good! Has somebody brought donuts? There's no alcohol till 6 by law, but I'll never tell. Liverpool are on the telly and the 4 am faithful have gathered.
We talk about the future of Mo as well as Milner while discuss what we want to see in our manager in terms of approach and temperament