Group H Preview & Predictions
SENEGAL (SEN)
Nickname: The Lions of Teranga
Confederation: CAF
Ranking: 27
World Cup Appearances: 2
Manager: Aliou Cisse, captain of the squad that reached the 2002 WC quarterfinals
Senegal come in after a comfortable qualification for their second ever world cup appearance. The team faces heavy expectations after reaching the quarterfinals in the 2002 World Cup and their disappointing run in the African Cup of Nations last year. They lost in a penalty shootout to eventual cup winners Cameroon.
This team is ripe with talent and viewed as the only African squad other than Egypt that might reach the knockout stages. Key Napoli defender Kalidou Koulibaly, who at 6'5 commands the backline, could pair with Kara Mbodji of Anderlecht. However, Mbodji suffered a knee injury and missed most of qualifying. While the midfield is formidable at winning the ball and managing control, they lack the ability to keep and harness it when the pace of the game slows down. Idrissa Gueye, Badou N'Diaye, and Cheikhou Kouyate form a solid base for a potent attacking force, but they lack creativity.
With highly rated winger options of Sadio Mane, Ismaila Sarr, and returning from injury Keita Baldé, the attacking momentum could prove dangerously fierce in a world cup group with no standout favorites. Moussa Sow and Diafra Sakho as striker options add even more depth to the team.
FUN FACTS
Senegal went all the way to the quarterfinals in their debut World Cup appearance in 2002. They beat defending champs France along the way.
They failed to qualify in 2006, 2010, and 2014.
While they won their qualifying group by five points, they lost to South Africa 2-1 in a controversial match. It resulted in a replay which Senegal won 2-0, and the referee was banned for life for a wrongfully awarded penalty.
Their name is The Lions of Teranga. Teranga is a Wolof word meaning hospitality or generosity. It incorporates the core ideal of the Senegalese national identity to treat others as you would treat yourself.
PLAYERS TO WATCH
Centerback Kalidou Koulibaly, a dangerous threat on set pieces and insanely talented defender.
Winger Ismaila Sarr, hailed as the next big thing, and of course, Sadio Mane, hands down Senegal's best player since Diouf.
FINAL THOUGHTS
There are no favorites in Group H, as almost any of the teams could advance with luck, good or bad performances, or a steal with the help or hurt of VAR. Senegal has all the makings of a team who should be able to advance. They suffered a heartbreaking loss in the African Cup of Nations and left earlier than expected, and also feel the weight of expectation to go far after the country's performance in 2002's WC. Manager Cisse has picked a squad mixed with youth and experience, but also players returning from injury who might not be at one-hundred percent. Substitutions will be key for this team if for some reason their attack falters or their defense needs bolstering. Most of the criticism of this team centers around the manager, so Cisse has just as much to prove if not more than the players on the pitch.
JAPAN (JPN)
Nickname: Samurai Blue
Confederation: AFC
Ranking: 61
World Cup Appearances: 6
Manager: Akira Nishino, former technical director of the Japanese FA
While Group H is viewed as a wild card, Japan is probably still ranked at the bottom of that anything could happen scenario. This is the 6th consecutive world cup for Japan and they will want to at least qualify for the round of 16. The average age of the preliminary squad is 28 and features many players from the 2008 Olympic team. Nishino opted for experience over younger rising internationals.  Not only is age a huge factor for the squad, but they sacked their manager in April and appointed Nishino. He will shift playing styles back from a more direct attack during qualifying to a more traditionally attacking and possession-based style we've seen from previous Japanese campaigns. However, they consistently have struggled against teams with more compact formations and will likely find serious difficulty against Colombia.  
While Japan are great at dribbling and passing with technical abilities and stamina, they lack a ruthlessness on attack and are weak in the air. They'll work to tactically dominate their opponents and probably change up their style each game. Most important will be experienced and familiar Southampton center back Maya Yoshida to lead the back. Goalscoring will be at the forefront of their minds, and the big names that will need to deliver are Leicester City's attacking midfielder Shinji Okazaki and Dortmund forward Shinji Kagawa, along with rising star midfielders Genki Haraguchi and Takashi Inui. Holding it all together will be Makoto Hasebe of Eintracht Frankfurt.
FUN FACTS
Japan has featured in every World Cup since 1998 and has entered the round of 16 on two occasions.
The pattern on the team kit is inspired by Sashiko stitching which featured on traditional Samurai under armor.
Only Brazil and Iran qualified faster than Japan
Manager Vahid Halihodzic was sacked in April after a string of bad performances in friendlies. Halihodzic had selected 68 different players in three years.
Keisuke Honda is the first Japanese player to score in two World Cups and at 32 years old could claim to be the first to score in three
Japan have faced a South or Central American team in four of their six world cup appearances and lost all four fixtures including a 4-1 lost against Columbia in 2014 which cost them a place in the knockouts
Japan have only won 2 out of the last 11 WC games played (Denmark and Cameroon)
PLAYERS TO WATCH 
Forward Yuya Osako, who recently secured a move to Werder Bremen, could be a major piece in the squad's success. While not as well known as Shinji Kagawa, Keisuke Honda, and Shinji Okazaki, Osako's strengths are hold up play, bringing other players into the game, and leading the line. He might not start above players like Yoshinori Muto, but could prove to be a vital substitution.
The left foot of Keisuke Honda, who might not see a full 90 minutes in any of the games, but is still arguably one of the biggest names on the team. He scored 7 goals in qualifying. A playmaker and a dead-ball specialist, Honda would be the first Japanese player to score in three world cups should he find the back of the net.
FINAL THOUGHTS
There's a taste of mystery for what to expect from this squad, but the usual characteristics remain the same. If they can establish a grounded control of the game and take advantage of their quality at scoring from distance,  Japan might be able to upset a few favorites in Lewy's Poland, Mane's Senegal, and Rodriguez's Colombia. Defense is their biggest weakness. Japan will have to play at their very best and hope for some poor performances from their opponents in order to advance. While not impossible, it is unlikely, though they have advanced at group twice before and after the last WC, they will want revenge against favored Columbia in the first match. If they can finish that game with a draw or a win, they might have the momentum to get to the round of sixteen. 
COLOMBIA (COL)
Nickname: The Coffee Growers, or The Tricolors La Tricolor
Confederation: CONMEBOL
Ranking: 9
World Cup Appearances: 6
Manager: José Pékerman
As one of the biggest standout players of the 2014 tournament, no 10 James (It's "Hah-mez" announcer guy! He didn't know in 2014, believe you-me he knows it now!) Rodriguez. Since then, he has had a bit of a whirlwind between his move to Real Madrid and subsequent loan to Bayern Munich. But he proved to be essential for Colombia with 6 goals and 4 assists in qualification.
David Ospina will start in goal. He could prove to be the make or break for the team as his errors led to a few of their qualifying losses. The core of the team is predictable. Davidson Sanchez as a versatile center back. James will play creatively in midfield. Captain Radamel Falcao, who has tallied 54 goals in the last 2 seasons at Monaco, will feature up front. He missed the 2014 cinderella story run to the quarterfinals due to injury. Falcao will be hungry to prove himself on the international stage.
The rest of the team is hard to predict and could change from game to game. Juan Cuadrado will likely start at right midfield, Mattius Uribe on the other side. If Abel Aguilar and Carlos Sanchez feature, the midfield will lineup and play more defensively. Colombia have struggled with goalscoring, and that will be a major obstacle for them.
They have also proven to be capable against giants like Brazil, Spain, and France, but have been held to draws against Venezuela, Australia, and Egypt, with losses to South Korea and Paraguay. (Are Colombia the Liverpool of the international arena?)
FUN FACTS
Columbia barely qualified, losing their last four qualification games, only winning 7 of 18 group games

They sealed it with a draw against Peru, with the infamous images of Captain Falcao covering his mouth while talking to the Peruvian players

The manager,

José Pékerman

, reached the 2006 WC quarterfinals with Argentina, and the 2014 quarterfinals with Colombia
PLAYERS TO WATCH
James Rodriguez, the darling of the team, and the cornerstone for their forward momentum. Falcao will be the front focus, with appearances from Uribe and Barrios.
FINAL THOUGHTS
Colombia could very well advance, or could easily crumble. They play well against the big teams but struggle against lower ranked ones–and GROUP H has no Goliath. Their run in the last WC gives them a slight edge, but they can't dance their way into scoring goals, which is something they absolutely will have to do in this group.
POLAND (POL) 
Nickname: The White and Reds
Confederation: UEFA
Ranking:  10
World Cup Appearances: 8

Manager: Adam Nawalka, former Poland International who played in the 1978 WC
After an impressive qualification, Poland showed great skill at goalscoring with Lewandowski netting 16, and the team a total of 28 in 10 games. But–they conceded 14 goals in those 10 games as well. Some might speculate that this aging team reached its peak at the Euros 2016 as most of their essential players, Kamil Glik, Michael Pazdan, Lukasz Piszczek, and Jakub Blaszczykowski are in their thirties. The Euro 2016 team also only conceded 2 goals in 5 games, a defensive strength not repeatedly shown in this past qualification. The defense will be their biggest worry.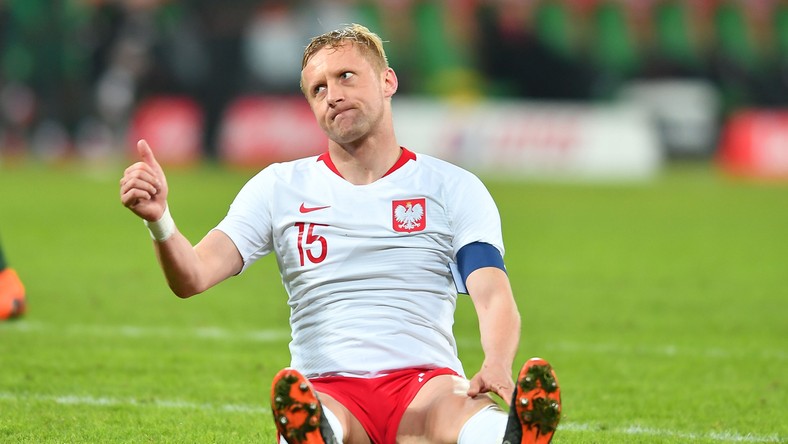 After an injury in the Euros, Fabianski took over for Szczensy in goal until the final two games of qualifying. It's unclear who will start versus Senegal. In addition, center back Kamil Glik suffered an injury just hours after the roster was submitted but is rumored to be fit for the first game. If he doesn't start, it will likely be some combination of two or three organizing at the back of Jan Bednarek, Maciej Rybus, Thiago Cionek, and
Lukasz Piszczek. Definite midfield inclusions of Blaszczykowski and Grosicki are to be expected, as well as a
creative force, Piotr Zielinski. After reaching forty goals for the third consecutive season at Bayern Munich, Robert Lewandowski will undoubtedly feature in the front either as a lone striker or paired with the younger threat Arkadiusz Milik.
While Poland can succeed in changing up their system, they will have to maintain their goalscoring ways as it is likely their defense will struggle to stop the onslaught from the rest of group H.
FUN FACTS
In the 1974 and 1982 World Cups, Poland came in third place

In 2002 and 2006, Poland went out in the group stage with only one win in each tournament

They haven't qualified since 2006 but topped their qualifying group this time around

Manager Adam Nawalka took over in 2013 when the team was ranked 69th and has brought them into the top 10 and a quarterfinal finish at the Euros
PLAYERS TO WATCH
The Napoli playmaker Piotr Zielinski has great technical skills, excellent first touch, and a strong presence in the midfield. He didn't perform as expected in the Euros, but should rise to the occasion this time around after the experience he's gained in Serie A and qualifying.  
The highest scoring player for Poland, Robert Lewandowski, is arguably one of the best strikers in the world right now. His front partner, Arkadiusz Milik, another bright young player for Napoli, will be a player to watch as he has recovered from injury and shares Lewandowski's affinity for goalscoring. Depending on the lineup, Milik might come off the bench and could be a game changer.
FINAL THOUGHTS
It's not a stretch of the imagination to think that Poland could make it out of the group and even advance to the quarterfinals given the right circumstances. Robert Lewandowski will be eager to impress and go far for his own personal aspirations and if rumors are true, his desire to leave Bayern. So I expect many, many goals from him. It will really come down to Poland's defensive strategies and abilities given the injury to Glik, will they be able to score more than they let in? 
MY PREDICTIONS
Some might say this is the real group of death. Poland, Columbia, Senegal, and Japan on any given day could be equals. Every single team will believe they can snag the first or second spot and so every game will be likely be played to win. I think Senegal are the only squad who could potentially come away with three wins, and it will be Senegal playing at their best or not that dictates this group. In addition, some of the season's biggest scorers reside in GROUP H, and also some of the more shaky defenses. Goals, goals, goals, me thinks. With a heaping portion of more goals. I might argue it could be the highest scoring group.
GROUP STANDINGS
1.  SENEGAL
2. POLAND
3. COLOMBIA
4. JAPAN
TOP SCORER
RUNNER UP
MOST CARDED TEAM: Colombia
WACKY PREDICTION: This group's goal tally will be the biggest, and half of them will come from one player.