My Liverpool Story by Jim Allgren
Me and Liverpool. Klopp and I. What a strange tale indeed.
Probably best to start at the beginning.
I was born in Youngstown, Ohio in 1963, and was raised in the suburb of Austintown, the youngest of three sons of Mahlon 'Bud' Allgren and Grace Andrea (Kayati) Allgren.
I was the first person in the house to get the 'sports fan bug,' we had no jocks in the family and were generally a 'bookish' clan.
I started rooting for the Cleveland Indians when I was 8, a natural thing for a boy in Northeast Ohio. At 10 I swore allegiance to the Minnesota Vikings, rather than the nearby Cleveland Browns or Pittsburgh Steelers because I discovered that I had Scandinavian ancestry and I thought their uniforms – especially the helmets – were cool. This led to a lifetime of heartbreak and disappointment. Always a bridesmaid, never the bride. I could go on about the '97 World Series, Super Bowl XI, or the 1998 NFC Championship Game, but that's not the point – thing is, every year was the same. Also-rans. Good but not good enough. I knew the passion of a true fan, but not the pure joy derived from a championship.
,
Fast forward to 2007. Our Vikings supporters club is at our usual watering hole, and our Vikes were getting drubbed, I can't recall by whom or exactly how badly. Most of the crew had left the bar, but a few of us were hanging around and talking yet again about 'what might have been' and 'what could have happened,' not just regarding the game, but in the history of the team itself. At one point my friend Dan looked up and said 'Fuck it, we might as well watch Premier league. LIV-ERP-Double O, L, LIVERPOOL FC!'
Where he pulled that from is a mystery to me, but it stuck. It kind of started as a lark, and as the Vikings season wore on into oblivion we'd say things like 'Wonder how Liverpool's doing?' and whatnot. I started trying to follow as best as I could online, simply out of curiosity, but I still didn't have regular access to the Premier League on TV.
Let me backtrack for just a minute. When I was a kid, there was basically 'no such thing' as soccer in my area. Youngstown was a steel town, and high school football was king, followed by basketball and baseball. Even hockey was 'exotic' to us. I was intrigued when the North American Soccer League gained popularity in the mid-'70s, but I had no one to explain the game to me. Best I could get on a regular basis were week-old Bundesliga matches on the local Public TV channel. Eventually, my interest in the game faded until Dan spoke those fateful words to me at the bar.
Fast forward again, to 2013. My wife and I were staying with my Mom, and we got Direct TV for the house. I'm flipping channels one day and hit NBCSN, which was showing a Premier League match. I decided to watch it. It was Liverpool, at Anfield. It was the day my life changed forever.
The passion of the fans, the noise of the Kop, the action on the pitch were all overwhelming. I can only describe it as a religious awakening, really. I went nuts. I read everything I could, immersed myself in the legend and lore. I learned about Shankly and Paisley, Dalglish, and Rush. I learned the songs. I learned about Hillsborough, and I cried. I was all in.
I watched other teams as well, paying close attention to the announcers. I had to learn the game from scratch, and I devoured it. Credit and kudos to my dear friend Helen Stringer, a native Scouser who was living in Los Angeles at the time. We became fast friends via social media, and she was an excellent tutor.
One day during that 13/14 season we had completely dismantled someone, can't remember who but it doesn't matter. I was walking through Mom's house singing 'You'll Never Walk Alone' at the top of my voice – which I am proud to say is a 'booming' voice. Mom looks at me and asks, 'James, why are you singing that song?' After I explained, she told me that it was her favorite song, and she sang it in her high school chorus. That's all I needed to hear.
Then Stevie slipped. The title wasn't out of reach, but you could feel it. The certainty was gone, the shadow of doubt crept in. Honestly, it didn't faze me a bit. The '97 World Series, the '98 NFC Championship Game, dozens of other times I can name for you – one bad pitch, one missed field goal – I'd been there before. I may have thought something like 'Here we go again, oh well,' but I still believed. Believed like I did when I was a child. Truly BELIEVED.
You know the story well enough, we don't win the league, Luis the Vampire does his thing and gets booted to Barcelona. Sturridge and his injuries, Skrtel the Mutant, and Balotelli. For God's sake, Balotelli.
We take a tumble down the table, Rodgers gets canned, and Klopp arrives.
Fast forward again. By 2019, our Vikings club had relocated to a place in Youngstown called Westside Bowl, owned by our comrade Nathan Offerdahl, who's both a huge Vikings fan and LFC supporter. Conveniently enough it also became home to our Rust Belt Reds LFC supporter's club. Man what a year! Corner taken quickly Origi!
The championship game versus Spurs! I don't neeed to tell you all that, you witnessed it as well.
At any rate my pals Mike (a Danish ex-pat via Canada, driving truck on a green card), Mike's wife Amy (a delightful human with the patience of a saint), Kevin (a newbie from our Vikings club who's wife still looks at me funny because I got her husband hooked on another sport), and Peter (an actual Scouse person who teaches at the University) decided we were going to the exhibition game at Notre Dame University that was coming up that August.
Sorry, time for another sidebar – I work for iHeart Media, as a talk show producer on News Radio 570 WKBN. The operative word here is media. I thought to myself, wouldn't it be hilarious if I were to get media credentials, get into the press conference and manage to get one of those famous hugs from Jurgen Klopp?
It was kind of a joke amongst us, wouldn't that be hilarious, so on and so forth. I even went as far as to ask my colleague Ron Potesta, who worked at our sports station 1390 The Sports Animal, if he knew anyone at Notre Dame. He did and provided me some contacts, but I still hadn't decided if I would follow through.
About 2 weeks before we're to go, I'm driving to work still mulling it over, I punch the Beatles Channel into my Sirius XM right at the beginning of a song – 'Ferry Cross The Mersey,' Gerry and the Pacemakers. It didn't have to be 'You'll Never Walk Alone' – the mere fact that I heard Gerry and the Pacemakers at the right exact time was prophecy enough. I was going to do it. I sent the request and got the credentials.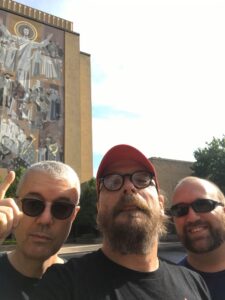 Gameday, we got up early for the trip to South Bend IN. It's not a terribly long drive from Youngstown, around 5 hours. We arrived in the early afternoon and met up with our friends from the Columbus Kop, the Official Supporter's Group from central Ohio. We had quite a party, and they were staying in a BnB just a few minutes walk from Notre Dame's historic stadium! It's not Anfield, but still pretty cool in it's own right!
As game time approached, I separated from my crew and went to the appointed place. I was in. I have to say that the view from the pressbox was amazing, and it was really cool to be at such a historic venue with such a magnificent panorama before me.
Just before halftime, I left the press box to grab some air on a nearby veranda. I'm talking to this German journalist about the game, Bundesliga v. PL, Klopp, and whatnot, just footy chit chat. I look over my shoulder, back at the pressbox – holy shit, is that IAN RUSH? I take a clandestine pic and send it to Peter, who's in the cheap seats on the other side of the stadium! Ian Rush! Before he can reply I've already gone back inside and gotten a selfie with the Legend himself! He was very gracious, I'm sure he was expecting a bit of anonymity and for some crazy Yank to recognize him at all probably came as a surprise!
Toward the end of the match, someone comes in the press box and says something I can't quite hear. People start standing, grabbing their laptops and notes, scurrying out the door. No one says anything, I figure I'd better follow them. Good thing I did – we were on our way to the press conference!
I was nervous but determined. I figured I'd better have an opening question to set the trap, and a follow up to spring it! I kept quiet until the end, to make sure I was last. When the moderator said 'One more question…' and I stood up and identified myself. First part of my question was a softball, I asked him if he thought the US tours were helping spread a love of the game in this country. He said he thought they did, and gave an explanation, then waited for my follow up.
"I'm only ever going to get one chance to ask you this – any chance I can get a hug?"
He let out a boisterous laugh and said 'That's the best follow up question I've ever heard!"
He started to get up to leave – was he going to get away? No! I stood up and started walking toward him, and said "How about that hug, Boss? Bring it in!"
He turned toward me with a big smile and gave me a very warm and sincere hug. I told him "Thanks for bringing the glory back to Anfield!" He responded, "You look like my fucking Doppelganger!"
[embedyt] https://www.youtube.com/watch?v=Wf4heQPK1nE[/embedyt]
I had done it! I excitedly left the stadium to find my friends and share the experience with them. Thing is, either due to my being nervous or so focused on my task, it hadn't dawned on me that there were media outlets from all over the world at the conference! As we were heading back to our hotel, Kevin's phone starts blowing up. 'Jim, you're on The Anfield Wrap!!' 'Jim, Redmen TV picked it up!' They just kept coming. ESPN, Bleacher Report, TalkSport, even the Liverpool Echo picked it up! For a moment in time, I inadvertently became the most famous American Scouser on the planet!
That's the story. If there's a moral to this tale, I'd say it's this – keep dreaming!
YNWA LFC